Access to Services – Genetic Counsellors
5.6.3 Access to Services - Genetic Counsellors
At least 1 Genetic Counsellor

0 Genetic Counsellors
New Brunswick
Newfoundland and Labrador
10
Northwest Territories
Nunavut
Prince Edward Island
There are 269 genetic counsellors in Canada.1 This number includes all counsellors who are members of the Canadian Association of Genetic Counsellors – some of them serve specific populations. Access to these genetic counsellors and the services they provide is not equitable across the country. In British Columbia there are about 100,000 people per genetic counsellor. In Ontario that number is about 124,000; in Quebec, it is about 169,000; in Saskatchewan it is 184,000 and in Manitoba it is 253,000.
1Canadian Association of Genetic Counsellors. Membership directory. Oakville, Canada: Canadian Association of Genetic Counsellors; 2013.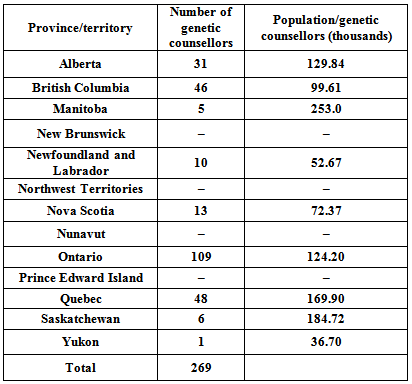 Implications
Genetic counselling is an essential, integral part of healthcare for children and families with genetic conditions or those who may be at risk for genetic conditions.  When a regional genetic clinic does not employ an adequate number of medical geneticists and genetic counsellors for the population, waiting lists can be very long. For many children, for example those with developmental delay, an early diagnosis and appropriate referral to treatment and support are essential to their optimal development.
Most genetic centres that employ genetic counsellors are in major cities.  Therefore rural and remote regions of Canada may have limited access to genetic services except through outreach clinics and telehealth. There are no data describing wait times for children and families, nor for how many centres provide regular outreach, teleconferences or telehealth. It would therefore be helpful to address data gaps related to services, wait times for children and families and benchmarks for service standards.