4.2.6 Culturally Relevant Education – Post Secondary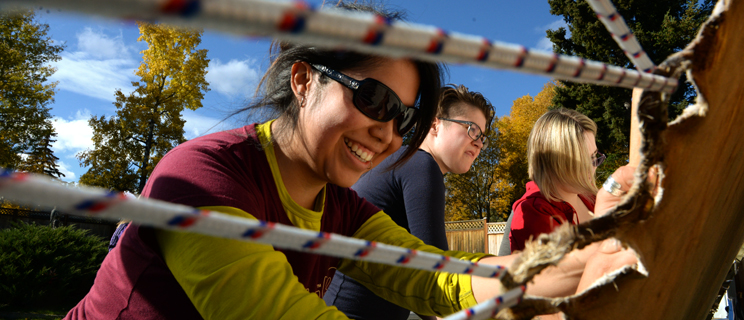 Innovative education delivery models have been implemented in Canada to engage Indigenous post-secondary learners and help them overcome geographic barriers to education.
In British Columbia, the University of Northern British Columbia offers experiential learning opportunities related to Indigenous cultural heritage, including: First Nations Cultural Heritage through Moose-Hide Tanning; Making a Pit House; and Dakélh Studies – The Dugout Cottonwood Canoe courses (NCCAH, 2017).
A number of provinces have developed innovative approaches to higher Indigenous Education. For example, British Columbia has developed partnerships between northern colleges and southern universities, and among different sectors, to provide select degree programs in underserved areas.
There are also higher Indigenous education centres which are locally controlled. These are based on Indigenous pedagogy and perspectives. They provide courses in partnership with other educational institutions, to advance Indigenous post-secondary education. For example, the Blue Quills University in St. Paul, Alberta evolved from a former church operated residential school to a university that provides academic and training courses in partnership with other academic institutions.1
Other centres have aimed to provide a more welcoming environment for Indigenous students. For example, "the Nunavut Sivuniksavut Program allows Inuit youth who are beneficiaries of the Nunavut Land Claims Agreement to participate in a transitional program that teaches them about Inuit culture, history, organizations, land claims and issues, as well as the life skills needed to be healthy functioning adults. Upon completion of the program, students receive a certificate from Algonquin College, with transferable credits for Arctic College programs such as management." 1 A number of universities have developed Indigenous student centres to provide Indigenous students with an inclusive, welcoming and respectful environment where they can feel they belong.
1National Collaborating Centre for Aboriginal Health. (2017). Education as a social determinant of First Nations, Inuit and Métis health – accessed November 14, 2018.

Warning: file_put_contents(): Only 0 of 1377 bytes written, possibly out of free disk space in /home/cichprofile/public_html/wp-content/themes/cich/vendor/illuminate/filesystem/Filesystem.php on line 122