Sexual and Reproductive Health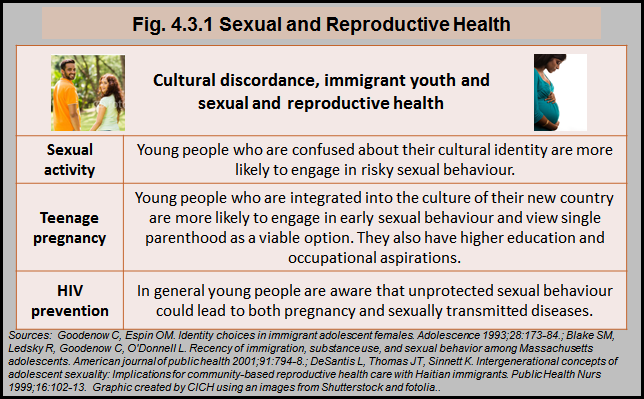 Research indicates that acculturation – or adaptation to the new culture – and identity formation appear to be simultaneous processes. Therefore, young people try to create an identity that weaves together two cultures.1  While research has found that sexual intercourse rates are similar between immigrant youth and native-born youth – recent immigrants were most likely to report peer pressures to engage in, and less parental support to avoid, risky behaviours.2  Maternal communication about sex and maternal support were key predictors for sexual behaviour. Research has also indicated that both parents and young people lack accurate information about contraception while they believed that parents had the major responsibility for educating children about reproduction and contraception.3
1Goodenow C, Espin OM. Identity choices in immigrant adolescent females. Adolescence 1993;28:173-84.
2Blake SM, Ledsky R, Goodenow C, O'Donnell L. Recency of immigration, substance use, and sexual behavior among Massachusetts adolescents. American journal of public health 2001;91:794-8.
3DeSantis L, Thomas JT, Sinnett K. Intergenerational concepts of adolescent sexuality: Implications for community-based reproductive health care with Haitian immigrants. Public Health Nurs 1999;16:102-13.

Warning: file_put_contents(): Only 0 of 1377 bytes written, possibly out of free disk space in /home/cichprofile/public_html/wp-content/themes/cich/vendor/illuminate/filesystem/Filesystem.php on line 122