Adolescent fertility rates, 2000 to 2020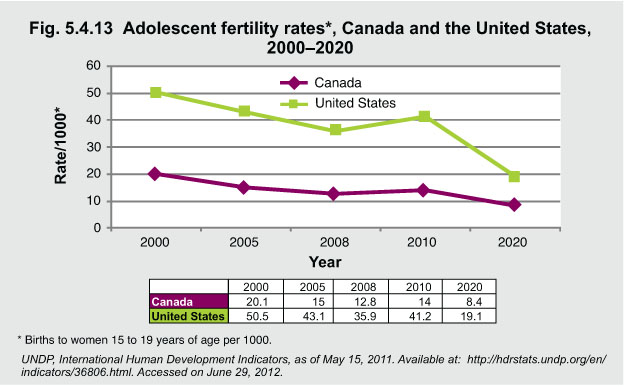 Adolescent fertility rates in Canada declined to 14.0 in 2010 per 1,000 from 20.1 in 2000. The fertility rate for Canadian teens is projected to decline further, to below 10 per 1,000 by 2020.
Implications
In the U.S., "shifts in racial and ethnic composition of the population, increases in poverty, the growth of abstinence-only sex education programs at the expense of comprehensive programs, and changes in public perception and attitudes toward both teenage and unintended pregnancy,"1 are all suggested reasons for the sudden increase in teen pregnancies.
The teen pregnancy rate in Canada has dropped, declining 36.9% between 1996 and 2006 (McKay and Barrett, 2010) and is projected to decline further. This data suggests that young women are better informed and have greater access to contraception than ever before.2
1Guttmacher Institute. (2010). "U.S. Teenage Pregnancies, Births and Abortions: National and State Trends by Race and Ethnicity." Available at: http://www.guttmacher.org/pubs/USTPtrends.pdf  -accessed on June 29, 2012. 
2McKay A, Barrett M. "Trends in Teen Pregnancy Rates from 1996-2006: A Comparison of Canada, Sweden, U.S.A., and England/Wales." The Canadian Journal of Human Sexuality. 19.1-2 (Toronto: Sex Information and Education Council of Canada [SIECCAN], 2010): 43–52.