Unintentional fall emergency department visits among 0 to 4 year olds by place of occurrence, 2014-2015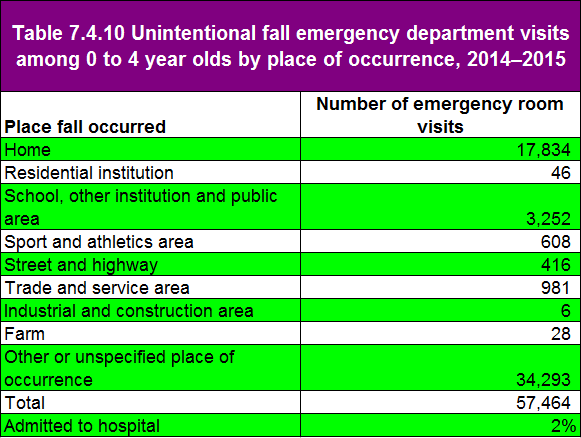 Notes:
Certain digits were suppressed for confidentiality reasons, in accordance with Canadian Institute for Health Information's (CIHI's) privacy policy.
For 2014–2015, National Ambulatory Care Reporting System (NACRS) abstracts that contained Main/Other Problem and were reported in this table included all Emergency Departments (EDs) in Ontario and Alberta, as well as 27% of ED visits in Prince Edward Island, 17% of ED visits in Nova Scotia, 6% of ED visits in Manitoba and 89% of ED visits in Yukon.
Data from Saskatchewan and British Columbia did not include Other.
Source: CICH graphic created using data adapted from the National Ambulatory Care Reporting System, 2014–2015, Canadian Institute for Health Information. https://www.cihi.ca/en/national-ambulatory-care-reporting-system-metadata -accessed June 23, 2017.
In 2014/15, there were over 57,000 emergency room visits among 0 to 4 year olds because of falls.
About one-third of the falls happened at home.
In 2% of cases the child was admitted (1,149 admissions) to hospital.
Implications
Parent education regarding prevention strategies is considered one way to prevent future childhood injuries – especially those serious enough to require a visit to an emergency department.  Recent evidence indicates that visits to emergency – which are usually the day that the child is injured – are not the best time for that education to occur.  The perception of risk following such an injury is highest four to six weeks later – therefore education is better at follow-up visits.1
1Takuro Ishikawa. Research Highlight: Are Emergency Department visits the best time to educate parents on injury prevention? Parachute Website. http://injuryevidence.ca/injury-hospitalizations/- accessed June 24, 2017.