Proportion of women who are breastfeeding at 6 months postpartum – any or exclusive, Canada and the provinces/territories, 2006/2007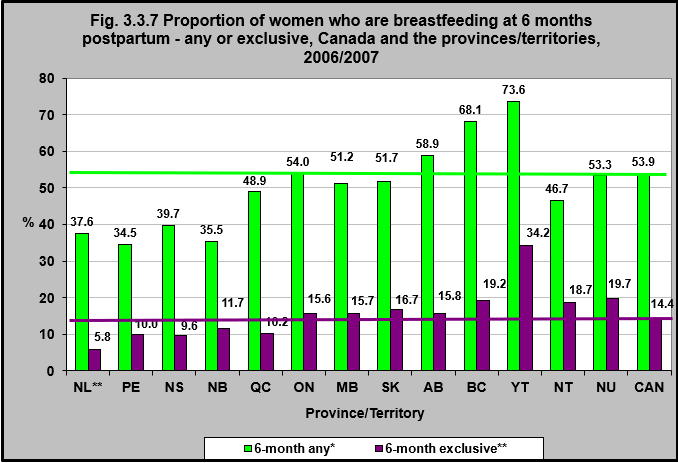 Notes:
*Rates of breastfeeding at six months exclude women interviewed at less than six months postpartum.
**NL – exclusive breastfeeding at 6 months – use with caution.
Source: CICH graphic created using data adapted from the Public Health Agency of Canada, Maternity Experiences Survey, 2006-2007. http://www.phac-aspc.gc.ca/rhs-ssg/pdf/tab-eng.pdf – accessed July 21, 2017.
According to the Maternity Experiences Survey (MES***), 2006-2007, at 6 months postpartum, 54% of women in Canada were still breastfeeding – only 14% of women were breastfeeding exclusively.
Again, the percentage of women breastfeeding at 6 months postpartum generally increased from Eastern Canada to Western Canada.
In Prince Edward Island and New Brunswick, only about 35% were still breastfeeding at six months postpartum.
In British Columbia, 68% of women were breastfeeding – 19% exclusively.
Similarly, that was the case for 74% and 34% of women in the Yukon, respectively.
***The MES population consisted of birth mothers 15 years of age and older who had a singleton live birth in Canada during a three-month period preceding the 2006 Canadian Census of Population and who lived with their infant at the time of data collection. Using the 2006 Canadian Census, a stratified random sample of 8,244 women estimated to be eligible was identified. Of these women, 6,421 (78%) completed a 45-minute interview at five to 14 months after the birth of their baby, conducted primarily by telephone.