Percentage of children under 2 years of age whose mother reported smoking during pregnancy, Canada and the provinces, 2005 to 2008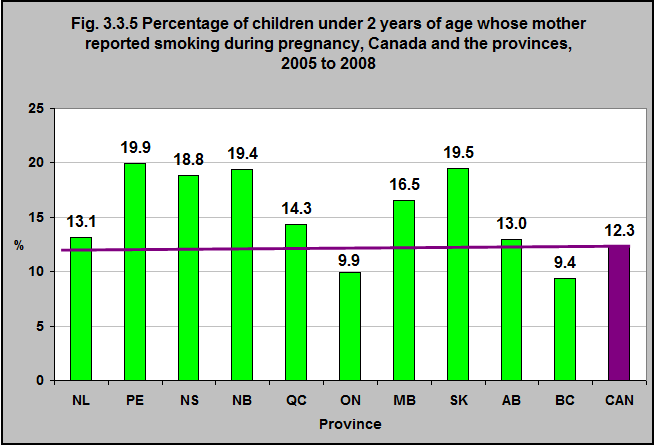 Notes:
Denominators exclude those who responded "don't know" and those who refused to answer.
Territories are excluded because the survey was not conducted there.
Source: CICH graphic created using data adapted from Statistics Canada, National Longitudinal Survey of Children and Youth. http://www23.statcan.gc.ca/imdb/p2SV.pl?Function=getInstanceList&Id=56797 -accessed July 21, 2017.
In the combined years 2005-2008, 12% of Canadian children under age 2 had mothers who reported smoking during pregnancy.
There were variations between provinces.
The proportion was 20% in Prince Edward Island and Saskatchewan.
It was 9% in British Columbia and 10% in Ontario.