Number of live births, by province and territory, Canada, 2013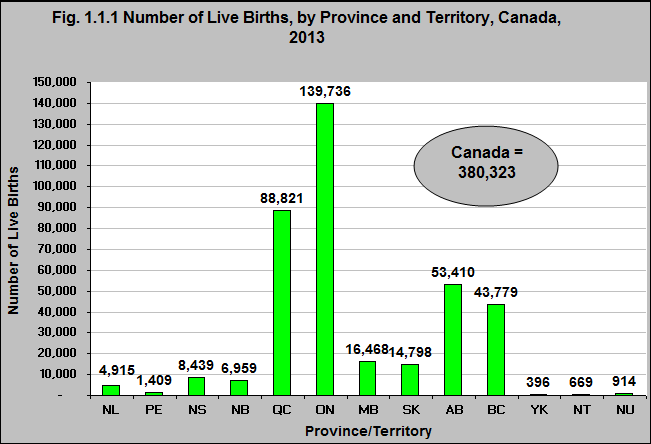 In 2013 there were 380,323 babies born in Canada.
The largest number of live births were in Ontario (139,736) making up 36.7% of all live births in Canada.
The overall number of live births increased by 1% between 2010 and 2013.1
1Statistics Canada, Canadian Vital Statistics, Birth Database, Table 102-4503. Live births, by age of mother, Canada, provinces and territories, annual. http://www5.statcan.gc.ca/cansim/a26?lang=eng&retrLang=eng&id=1024503&&pattern=&stByVal=1&p1=1&p2=-1&tabMode=dataTable&csid=-accessed March 15th, 2017.

Warning: file_put_contents(): Only 0 of 1377 bytes written, possibly out of free disk space in /home/cichprofile/public_html/wp-content/themes/cich/vendor/illuminate/filesystem/Filesystem.php on line 122