Promoting Healthy Nutrition and Physical Activity: The Inuit Super Hero Storybook Series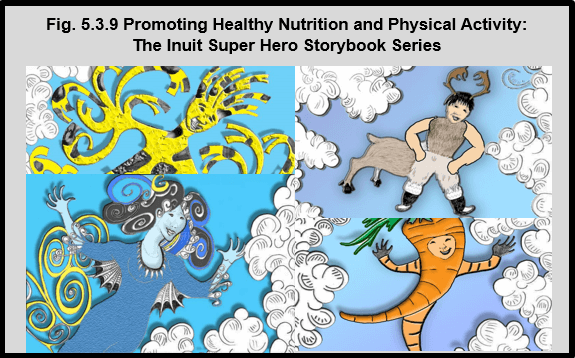 These engaging tri-lingual story books (English, French and Inuktitut) feature the following Inuit Super Heroes:
Meateater Man is strong and healthy. His strength comes from the meat in his diet because protein builds good muscles. A traditional Inuit diet consists mostly of meat and animal fats. With this diet, Inuit live long healthy lives.
Crunchy Carrot reminds us that to crunch is best and that snacking on crunchy things like carrots, celery, broccoli, cauliflower, peppers, pears, apples and berries is fun and healthy.
King Caribou teaches that protein is what builds muscle and helps us grow. Protein also makes our blood strong and helps us fight sickness. Without protein your body cannot work as well.
Stretchy Cheese is a flexible friend who teaches us how milk, yoghurt and cheese give you strong teeth and bones.
Water Woman is clear and fresh, fast and always flowing! What a beautiful super hero! She encourages us to drink water to help our body be like hers.
The storybooks are an educational and fun resource for early childhood educators, teachers and parents.

Warning: file_put_contents(): Only 0 of 1377 bytes written, possibly out of free disk space in /home/cichprofile/public_html/wp-content/themes/cich/vendor/illuminate/filesystem/Filesystem.php on line 122