Percentage of parents or guardians of Indigenous children under age 6 who responded 'excellent' or 'very good' when asked how they feel about the statement "my community has good schools, nursery schools and early childhood education programs", Canada, 2006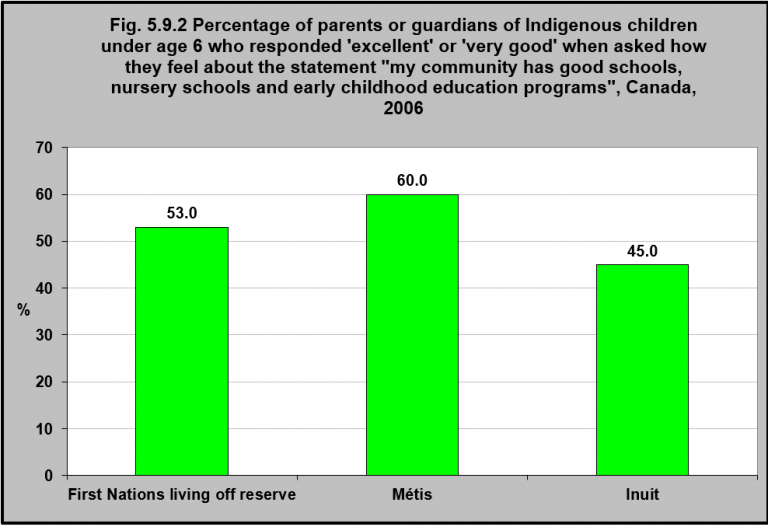 In 2006, under half – 45% – of parents/guardians of Inuit children under age 6, when asked how they feel about about the statement "My community has good schools, nursery schools and ECE programs" responded 'excellent' or 'very good'.
The proportion was greater for First Nations children living off reserve and Métis children.
Implications
Indigenous children face unique barriers to accessing culturally relevant schools and education programs.  Within mainstream schools, Indigenous curriculum, language and culture are often lacking, and Indigenous students/families often encounter racism, lack of cultural awareness by educators, and inadequate supports.1 First Nations schools on reserve are often in poor condition or have a lack of access to basic educational amenities, including fully equipped gyms, playgrounds and outdoor playing fields, kitchens, science labs, libraries, technology and internet connectivity.2 Improving education, through better facilities and expanded access to Indigenous focused programs, is central to addressing socio-economic issues that are at the root of the health challenges Indigenous people face.
1Fisher, J., & Campbell, L. (2002). Improving the Aboriginal educational experience in public schools. Peace Wapiti School Board. Retrieved October 11, 2017 from http://www.pwsd76.ab.ca/Resources/reports/Documents/Aboriginal%20Study.pdf
2Chiefs Assembly on Education. (2012). A portrait of First Nations and education. Gatineau, QC: Palais des Congrès de Gatineau.