4.1.5 Health Promotion and Prevention – link to government services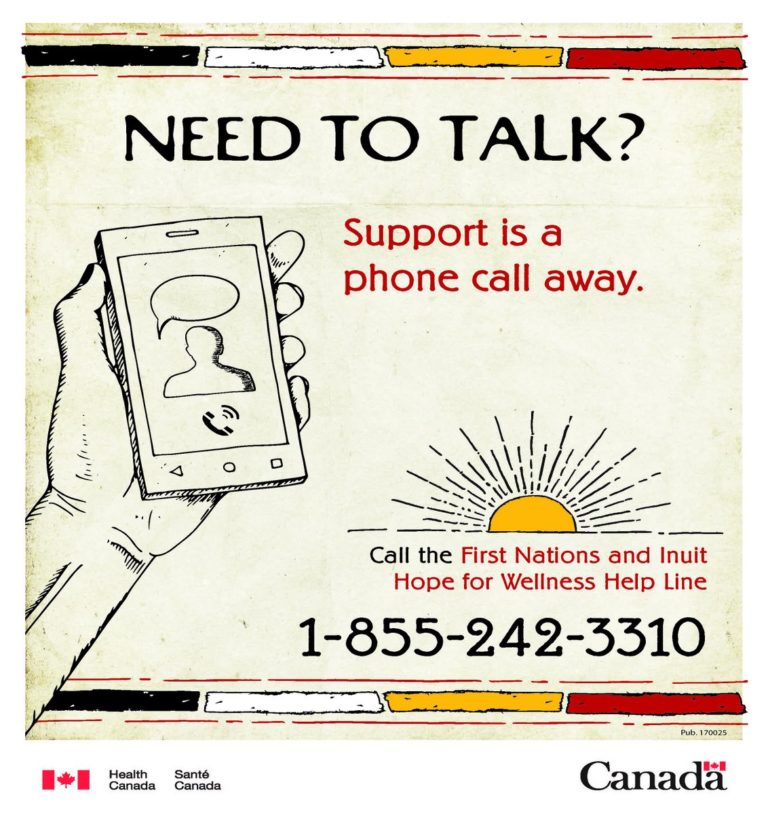 The Government of Canada provides some innovative programs for Indigenous children and youth.
The Hope for Wellness Help Line offers counselling and crises intervention to all Indigenous peoples across Canada 24 hours a day, 7 days a week. The service is offered by experienced and culturally competent counsellors. Counsellors can also help callers find other wellness supports near them. The counselling is available in English, French, Cree, Ojibway and Inuktitut. (1-855-242-3310 or connect to the online chat at hopeforwellness.ca)1
Health Canada works closely with First Nations and Inuit organizations and communities to develop activities and programs to prevent injuries among children and youth. Programs and services are provided to reflect First Nations and Inuit cultures along with respect for individual physical, mental, emotional and spiritual needs, as well as family and community backgrounds. Injury prevention education is taught at both the Aboriginal Head Start program and the Brighter Futures program to help First Nations and Inuit children understand the importance of injury prevention from an early age. In addition, Health Canada provides information on unintentional injury prevention and how to stay safe. Topics include preventing falls, fire safety, preventing poisoning, suffocation hazards, road safety and water safety.2
1Hope for Wellness Help Line – accessed November 14, 2018..
2Indigenous Services Canada. (2008). Keeping safe – Injury prevention – accessed October 28, 2018.